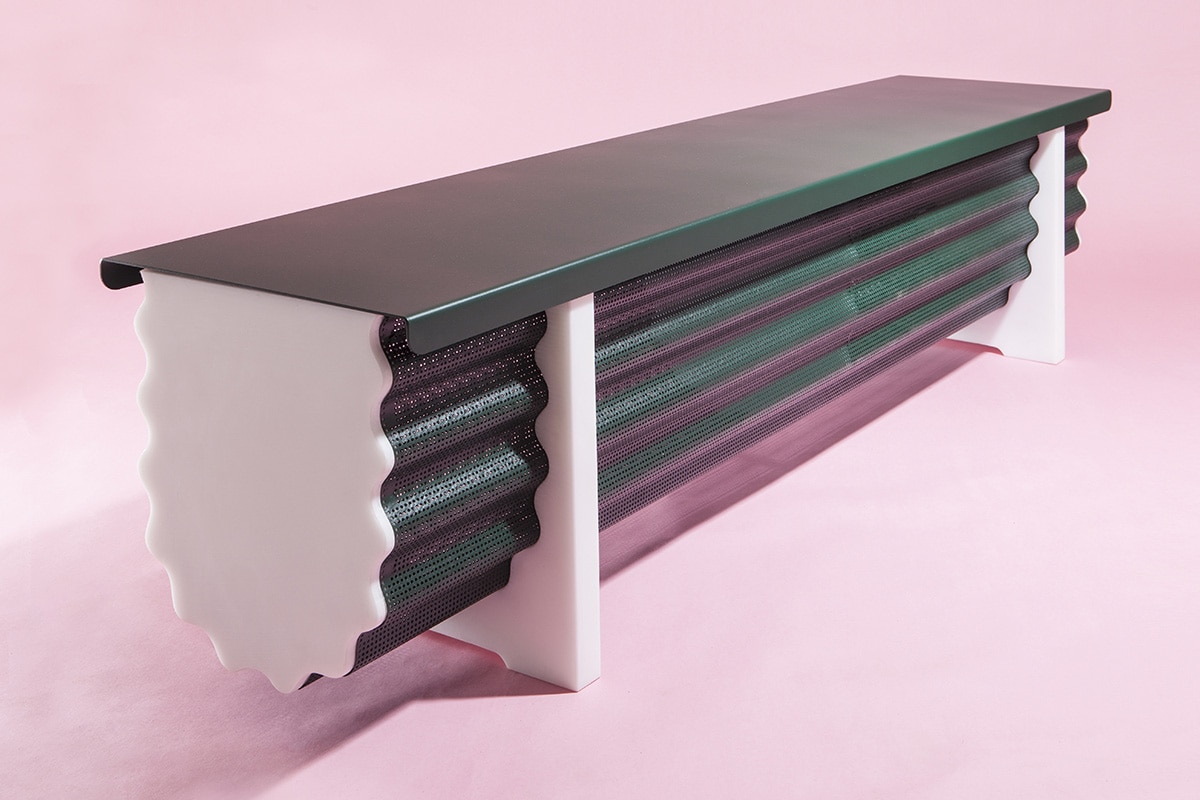 We have come across Michael Schoner's work last year, when he released his Crest & Trough bench. We were tremendously attracted to this neo-Memphis yet very personal and witty universe. Humour is everywhere in his joyful and well thought work. We at hlow wanted to know more about this young man.
Who are you? Where do you come from, where do you live and work?
I'm an Architect and Designer. I grew up in a small village an hour north of Frankfurt (Main), Germany. Later I moved to Darmstadt to study architecture. I have also lived in the States (California and Alabama) and one year in Barcelona. After my studies I got a job at NL Architects in Amsterdam where I worked until starting my own studio. Two years ago my girlfriend, my daughter and me moved to Rotterdam. Besides my own studio I've also just started working for a studio called Carve. We design playgrounds, skateparks and landscape architecture.
Being an architect, how do you link design to architecture?
Design and Architecture are closely related. If you look at buildings like e.g. from Mackintosh he designed everything from the building from the volume and layout of the spaces to window detail, to the lamps, clock and furniture of the building.
With furniture Architects tend to construct more then the average designers I once heard. That is also true for me: my furniture are mostly constructions. Actually mostly they are small architecture studies.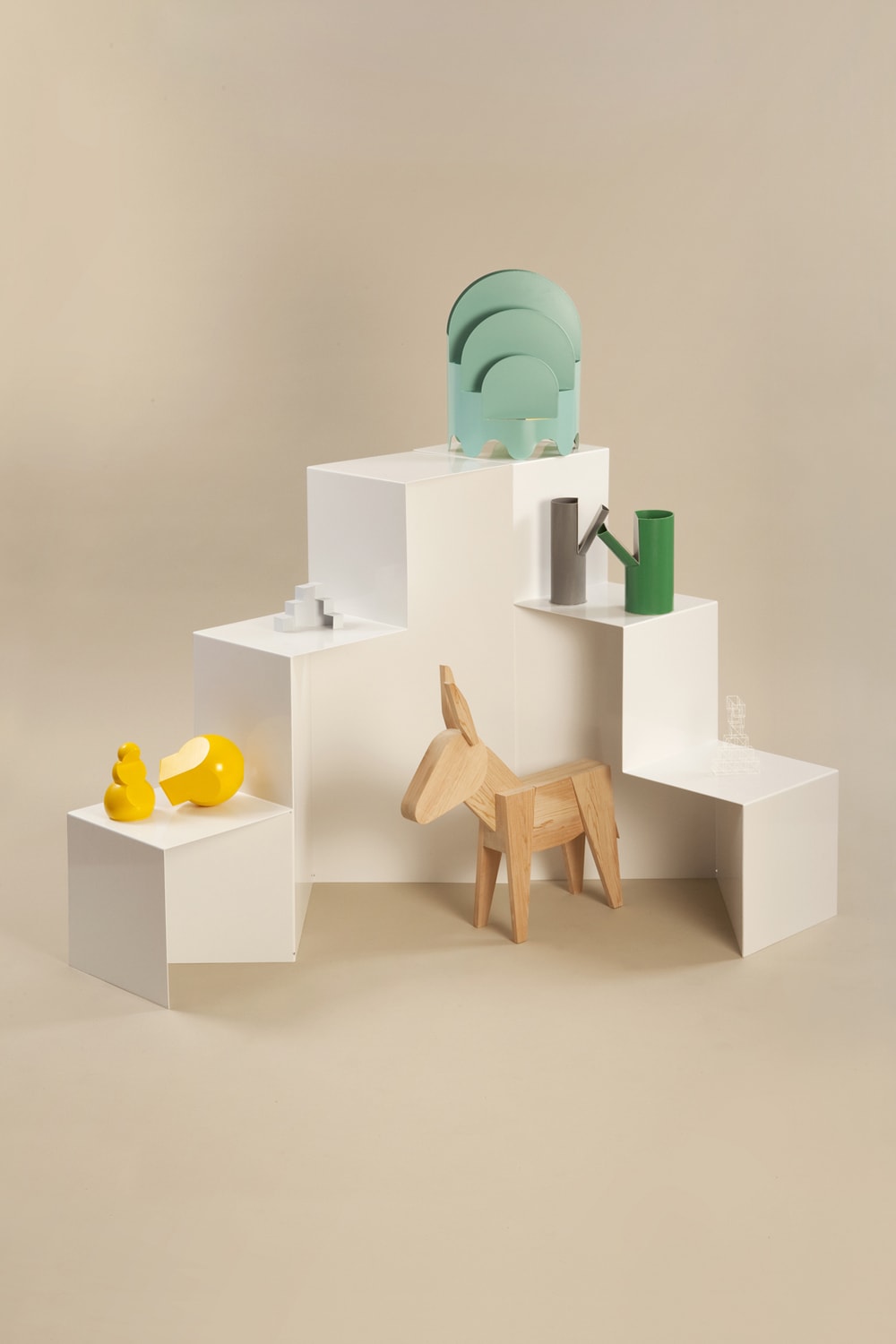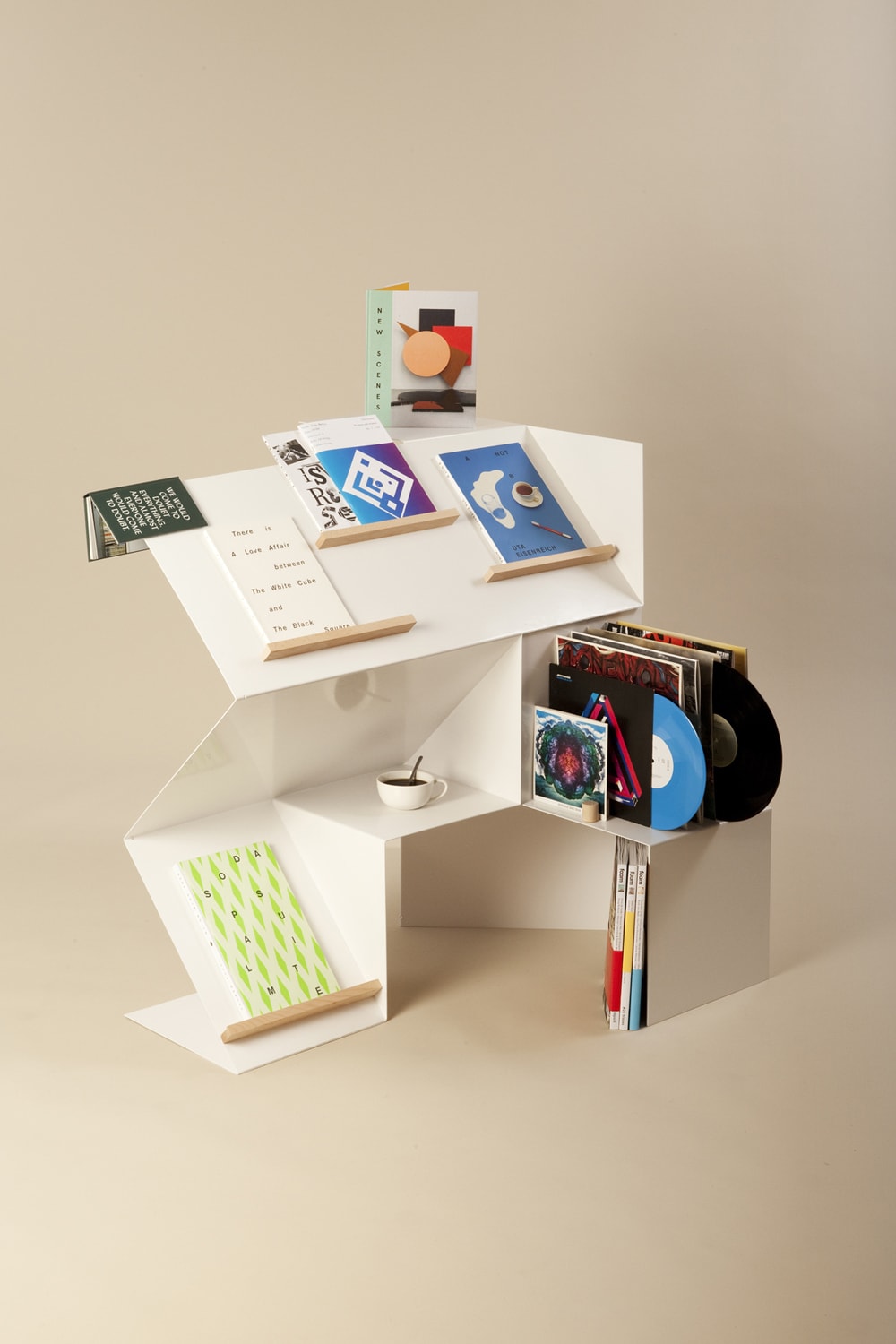 I read in a great post about you on Sight Unseen that you were about to move to your own house + workshop at the time. Did you manage to do so?
We (my girlfriend and me – Selina Parr from Noman Studio) bought an apartment in the centre of Rotterdam. (The Dutch say "House" even if it is only an apartment). It's in a street of 1930s buildings and we where very lucky, because it turned out that between the main walls everything was held up by a steel structure. That meant that the middle wall could go and we nearly broke open everything towards the back facade. There we look onto a huge garden from the neighbour. The centre of the house is now a kitchen block – so one can run circles around it.
The other special thing is that it has a direct stair from the street to the first floor and then two flights of stairs through the neighbours apartment to the half of the third floor, where the sleeping rooms are. This is funny enough quite common in Rotterdam, but our first stair of 1st towards 3rd floor is ending up open in the open kitchen so the connection seems more open. As it goes with projects that you build yourself and for yourself for a big part things are not yet finished. Now we are in a phase where the basic functions are working and all the finishing is interrupted by life and other things that need to happen.
What are your visual references in general and perhaps, more in detail for three of your creations: the Crest and Trough bench, the Vault side table and the Sunrise lamp? We can see in your work a lot of Memphis and Alchemia, right? But not only, right? 
I wouldn't want to limit my references only to Memphis. Its true I embraced it because it allowed to break free from the Modernist Form Follows Function dictatorship. I like sculpture so if one is always rational things can get rather boring. On the other hand – If I don't have a reason to do something I reconsider it, because then it becomes decorative. I like graphics and shapes, but they have to develop from a logic. My girlfriend once said what I try to do is "Minimal Maximalism".
The Sunrise Lamp was actually a mind game following me seeing an industrial potato knife. It was a pyramid of knifes where potatoes would be shot through. I thought what would happen if the object was round. Then the legs couldn't be like the top and a wave can grow easily out of a surface. It meant not having to make real "legs".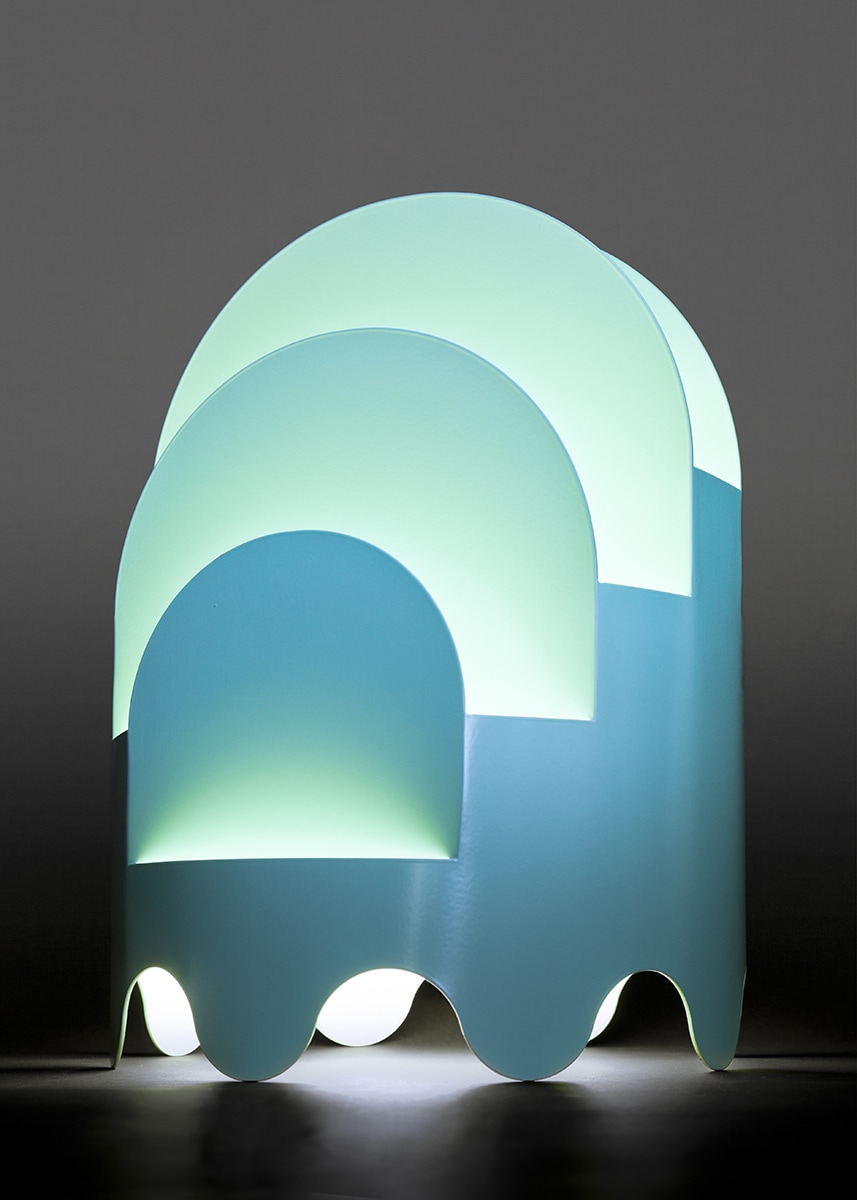 Vault started very modernist.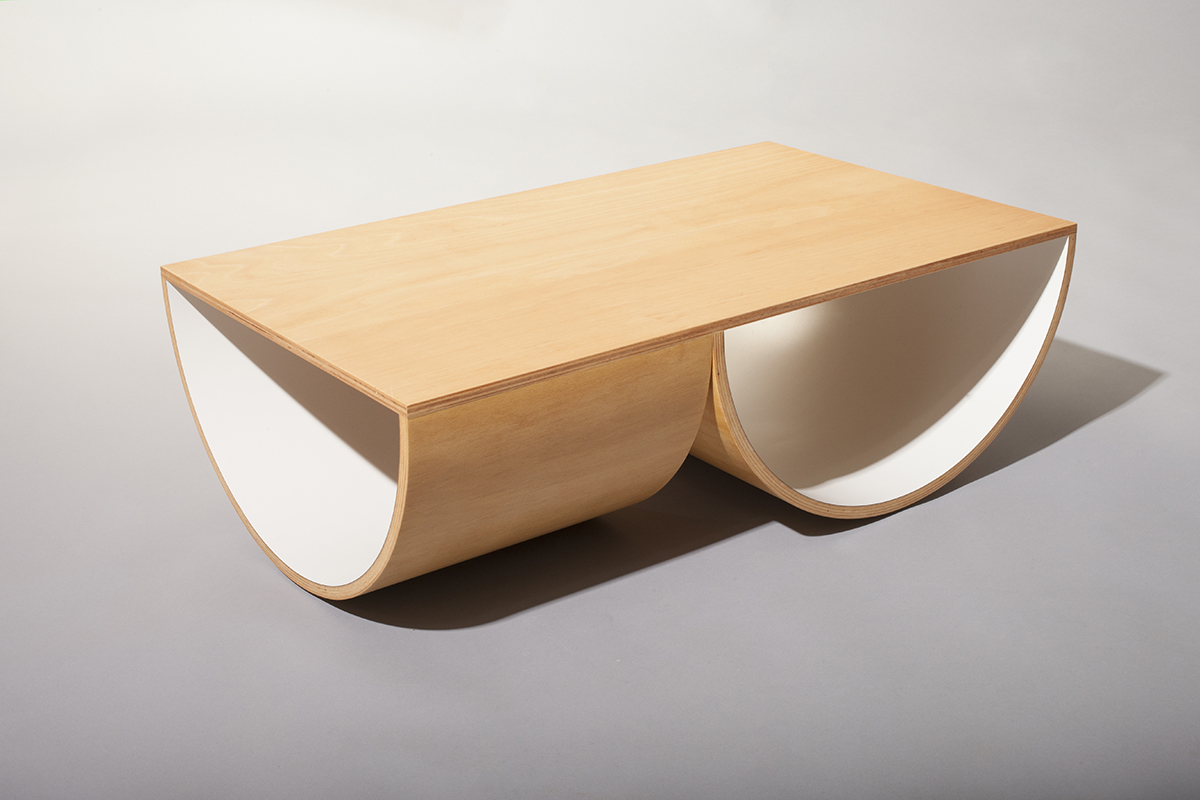 There are so many great engineers of the last century. For instance: Frei Otto,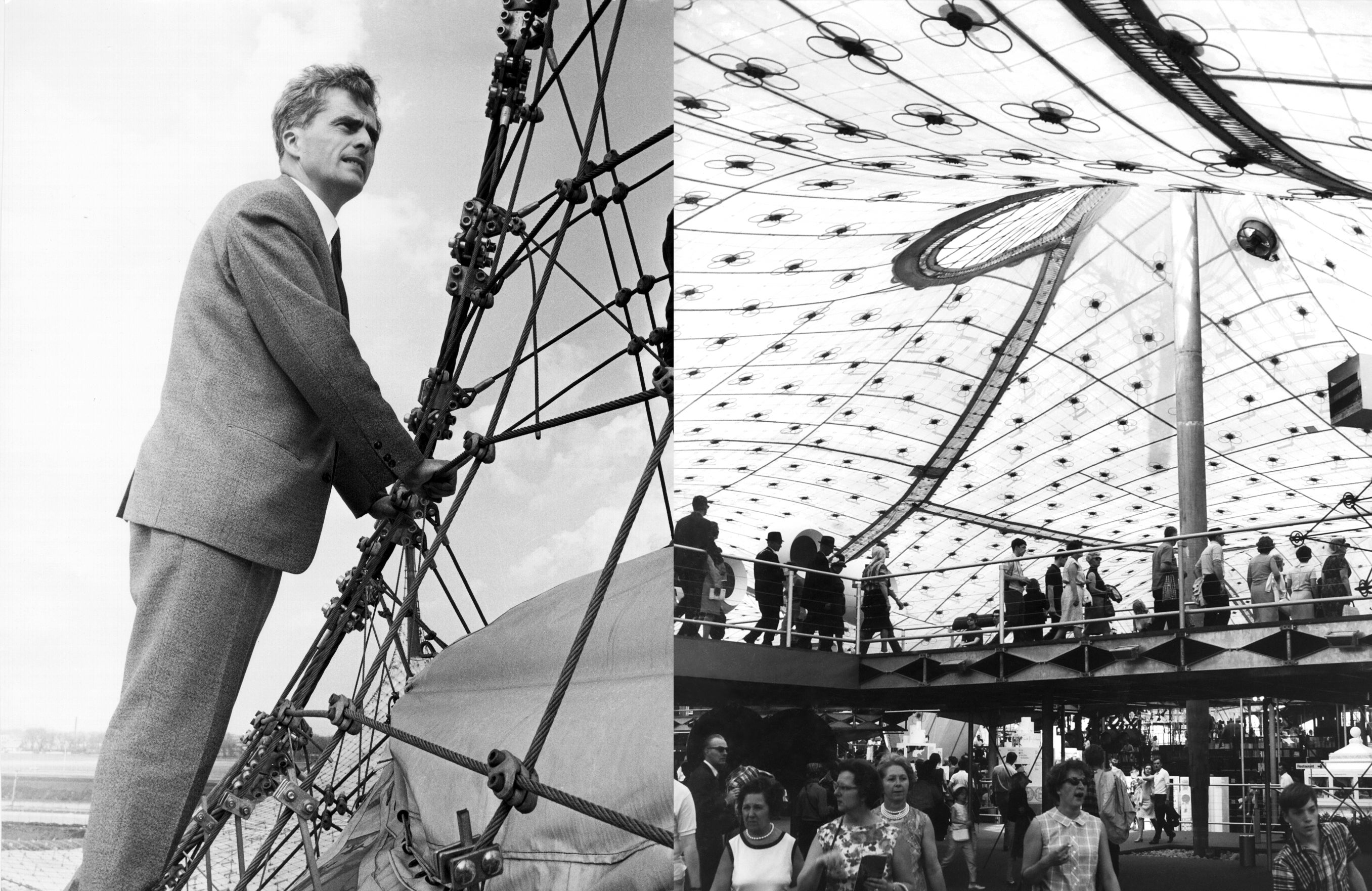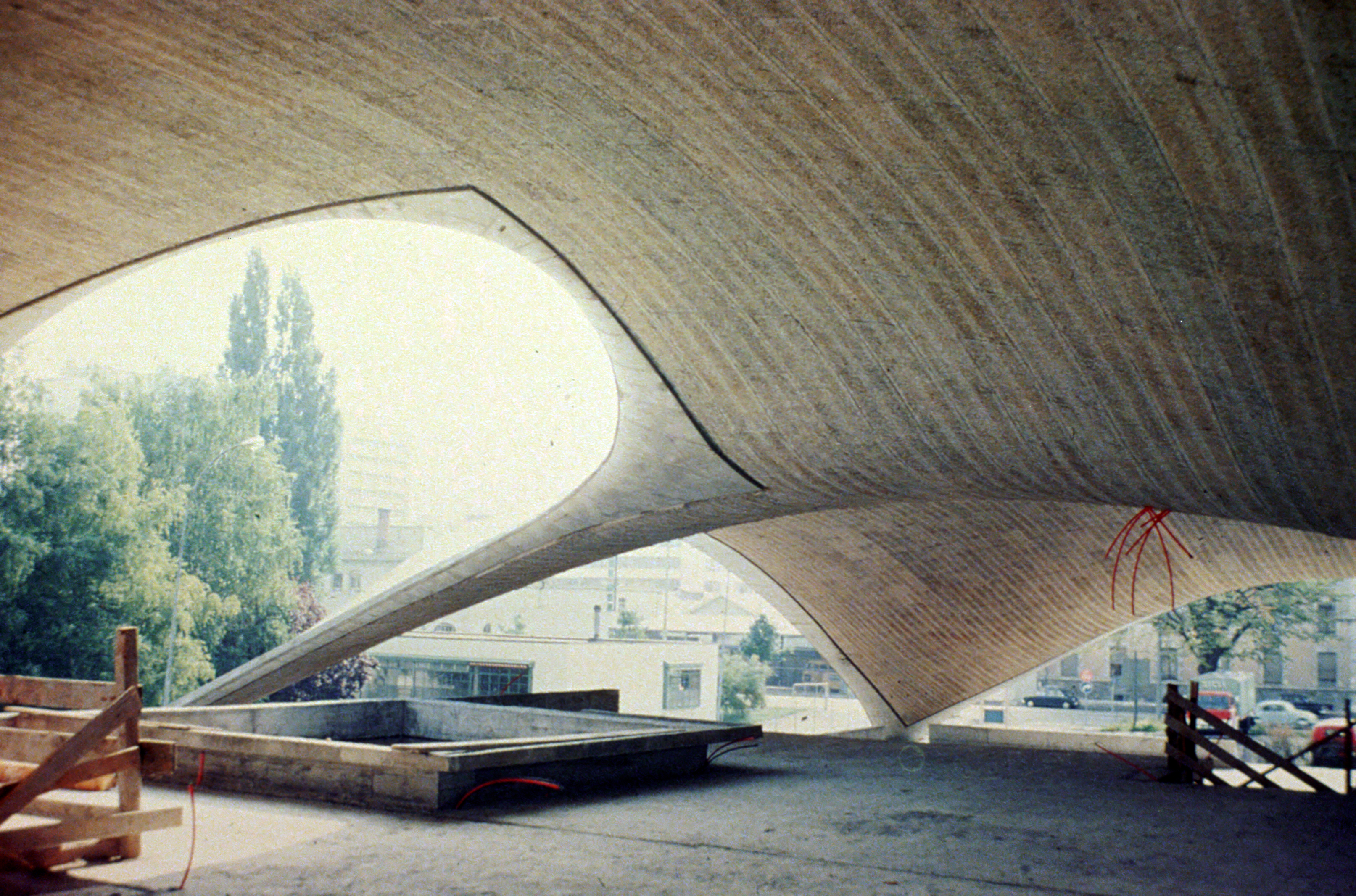 I discovered though if you flip a barrel to the side, you get a niche, and that is a very old architectural leitmotiv! It would remind one of temples and churches. In the end, I like the constructive principle, though, that a bend surface can be stronger then a straight one.
This is also true for the bench Crest + Trough. I liked that corrugated steel gave extra strength to the side walls of the Trough, but at the same time it is very graphical! It's a furniture. I had in my mind in different ways for over two years. It's somehow an archetype. Funny enough after I had made it, I found similar furniture in wood from the 17th century in a French book. Then it was made for washing clothes – so basically a washing machine. I think we have a collective memory about shapes and their multiple meanings.
Droog Design has been connected to my old bosses of NL Architects since the 90ies. The Boombench was a project they initiated for the Urban Play Exhibition in 2008. Since, I had come up with the idea, I worked it out as well. Since then, the Bench has been in various exhibitions of Droog.
The Pop-Up Cafe was a temporary event space in Amsterdam set up by two girls Eline Mul and Karoline Buurma. It involved a lot of the young creative scene from Amsterdam most of them related to the Rietveld Academy at that moment. Back then I made some stoels for them with a water cutter.
Later Karoline did something similar at W139 in 2012 and asked me to design a chair for it, which became the Brett Baguette. Basematters  is producing my chair Brett Baguette and we have added two tables and a barstool to it. An upholstered version is in development.
I started working together with Objekten and SV in 2013. The first ideas for the Vault series was for Objekten, but since they wanted flatpack it wasn't in line with there philosophy. Luckily this is why the shelf exists, now.
For SV we looked into a modular meeting room system. Pavilions within bigger spaces. Bend glas panels would have been the construction.
I have pitched ideas for masks derived from the A3 Animals for the G-star Sunglass Campaign 2015. Ultimately the whole mask idea for the campaign was cancelled. Nevertheless I'm happy with the Fox and the Bear I developed through it.
There is also the last work I developed for Dutch Invertulas for DDW 2016. It's more a research then a final product but here are some images.